I spent Friday night at the
Art Gallery of Ontario (AGO),
catching up with Jerry Finelli about film festivals and performances in cool industrial spaces and local cider.
Jerry and I met in Iceland, hiking around Snaefellsnes and eating
hakarl
(putrified shark) with shots of Brennevin, the local caraway vodka.
This was a little tamer.
Lawren Harris was one of the Group of Seven
. Like most Americans, my knowledge is Canadian artists is limited mostly to Canadians who made it big in the US: Justin Bieber. Joni Mitchell. Drake. Steve Martin (who produced this show). Frank Gehry (who designed the building we were in).
Ed.: Jerry says Steve Martin isn't actually Canadian. He was now in Texas.

Harris' paintings
In the mid 20s, his work became less realistic and more mythical.
This is Mt. Robson on the border of BC and Alberta, on the road from Vancouver to Jasper. I'd love to see it again one day.
Many of the paintings depict Baffin Island. Promptly added to my wish list.
And to bring things full circle, this evokes
Hallgrimskikja, the landmark church in Reykjavik.
Later in life, Harris' paintings became more symbolic. Graphical, but colder. They don't move me the way mountains do.
He was still obsessed with the same shapes: giant crystals and balls. But he'd moved to New Mexico. I guess he stopped going north.
Gehry's building
Gehry buildings are often a mishmash of styles and materials, and the AGO is no exception.
The spiral wooden staircase is exquisite except it's also hard to walk down, and ends abruptly.
This was my favorite section, the wooden interior of a ship. Perhaps a canoe? The glass is reminiscent of the Pompidou Centre escalators in that it provides a great view outward of the city. Here's the AGO from the back.
I am a Gehry skeptic. I see him as a talented sculptor who works in enormous scale. There's a moment in the
documentary his friend Sidney Lumet made
where he folds up a post it very dramatically and then crumples it slightly, and an assistant takes it away, to try to build. Best of luck, kid.
Appropriately we had dinner at a hip restaurant that was a mashup of Korean and Jewish food: latkes and short ribs. A true Toronto combination. The Ontario cider was good too.
Other mountain worshippers
The paintings reminded me of Nicholas Roerich's work, which I saw last fall at his
marvelous NYC townhouse museum.
Like Harris, Roerich was a theosophist. He saw the spiritual world in nature. So do I.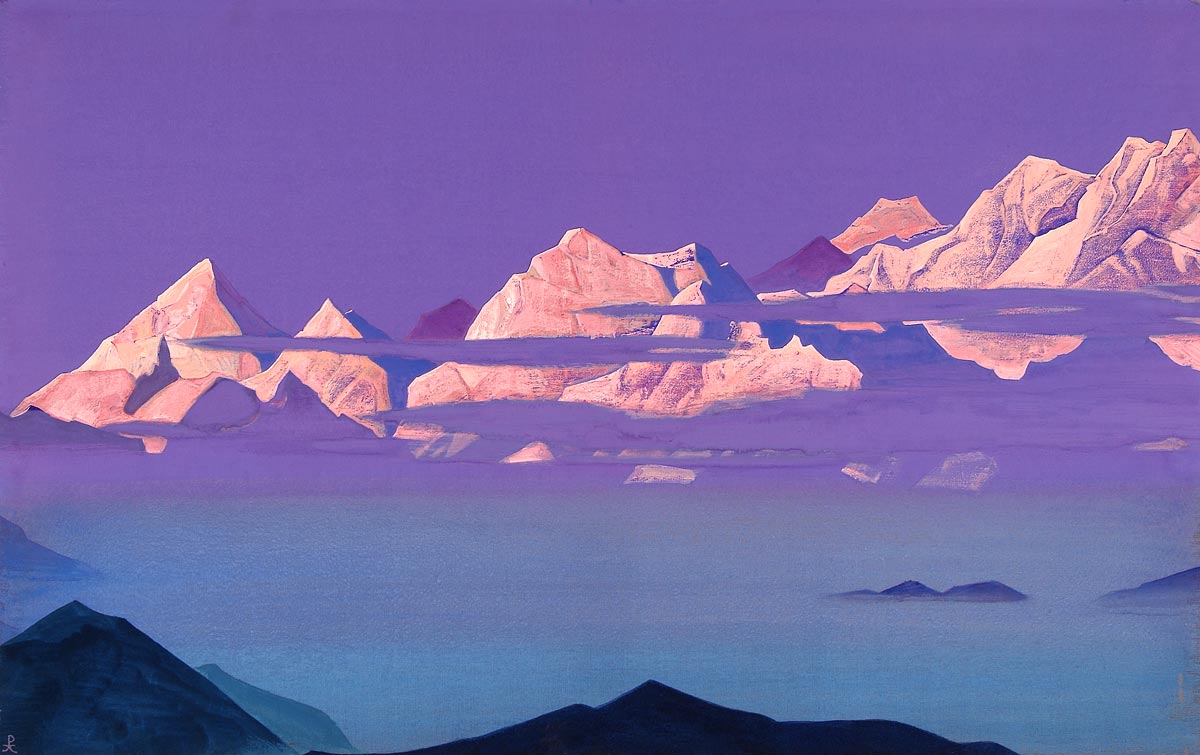 Roerich was a set designer, and I have a few of his evocative landscapes on the wall at home. He was also a traveler. Where Harris went north to Baffin Island and Mt Robson, Roerich went east to Tibet.
I'm headed north myself, to Mutton Lake and Parry Sound. We'll see what art the landscape inspires.
More on Harris, including gossip:
T
The Group of Seven always looked less like insurgents than insurance salesmen. While they fancied themselves masters of the Canadian wilderness, they were, for the most part, cosmopolitan urbanites, animated by anger toward what they considered retrograde Canadian art. They cast themselves as outsiders but were very much a part of the cultural establishment.
March 2017: There's a show at Museo Picasso Paris that includes some of Lawren Harris' work. More details including a full biography and upcoming shows featuring his paintings here.